A favorite ?
Reserve your favorite pieces in a few clicks and go to the store of your choice.

SIMPLE, FREE AND NO PURCHASE NECESSARY
I have found my favorite item.
I choose:
- my item
- the size
- the shop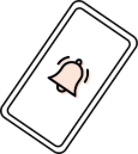 I GET AN ANSWER
IN THE NEXT 2H
I receive a confirmation
by email or text message.

I GO TO A STORE TO TRY MY ITEM
I can change the size, color or model. I can complete my look with the advice of the Maje team.
I pay for my purchases in store.